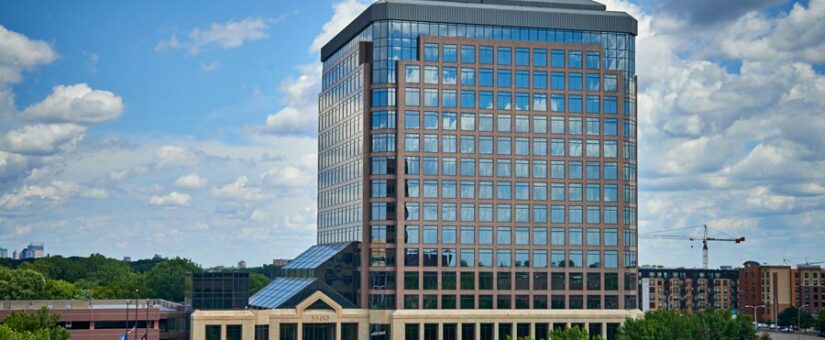 Press Release: ER Partners Acquires Colonnade Office Tower in West End Renovation Plans for 2023
Minneapolis, December 15, 2022 – Eagle Ridge Partners, along with BLG Capital Advisors, announces the acquisition of the Colonnade office tower located just outside downtown Minneapolis in the vibrant West End district. Major tenants at 5500 Wayzata Boulevard include Pentair, Inspire Medical Systems, and Bell Bank.
Eagle Ridge Partners, the commercial real estate development team behind the recent award-winning renovations of One Southwest Crossing and SunOpta headquarters in Eden Prairie, plan to begin a phased renovation of the Colonnade building.
"While the Colonnade is an iconic building in the Twin Cities and offers a premier location, no significant improvements have been made to the property since developed by Trammell Crow in 1988. Employers are looking to high quality spaces to draw employees to the workplace. The Colonnade offers great foundational elements, and our renovation will elevate the interior spaces with a refreshed, modern design to meet the desires of current and prospective tenants," said Kristin Myhre, president of Eagle Ridge Partners.
Eagle Ridge Partners is collaborating with Studio BV on the design of the Colonnade. Renovation plans include a modern redesign of the building's atrium, a five-story open space that will feature open meeting areas and seating, creating an additional workspace for tenants.
"Eagle Ridge had a lot of success with the renovation of One Southwest Crossing and we see even greater potential at the Colonnade," said Matt Tuthill, Director of Real Estate with BLG Capital Advisors. "We're excited to revitalize the space with some of the most in-demand amenities including the modernized atrium and the new Colonnade Club, a private tenant club room with bar, catering kitchen, media space, and outdoor patio."
Additional amenities planned for the renovation of the 366,427-square-foot office tower include an expanded fitness area and a new secure bike storage area with direct access to outdoor paths. Also included in the renovation plans are an updated conference and training center. Steiner Construction will complete the renovation work, which is expected to begin in the spring of 2023.
Brian Wasserman of CBRE has been retained to continue to provide leasing services; the building has historically enjoyed strong occupancy and the planned improvements will ensure its continued success.
Eagle Ridge Partners
Founded in Minneapolis in 1996, Eagle Ridge Partners is a privately held development, acquisition, and asset management company. We have owned, operated, and developed over $1 billion of institutional-quality commercial real estate assets in our 20+ year history. Our current portfolio includes over 3 million square feet in the Twin Cities metro area, including office, industrial, multi-family and design center properties. We focus on creating value in each transaction we engage in by utilizing a combination of experience, industry relationships, and a flexible investment approach. Learn more at erpartners.com
BLG Capital Advisors
Founded in 2014, BLG Capital Advisors is a private markets investment firm focused on lower middle-market and middle-market private equity in buyout, growth and real estate strategies. BLG is headquartered in Chicago and alongside its USVI-based partner organization, International Private Bank, manages a multi-billion-dollar private markets' portfolio on behalf of a single-family investor. The real estate private equity strategy at the firm is focused on opportunistic and value-oriented commercial real estate transactions both domestically and abroad. The firm invests in single property transactions and multiple property portfolios in a wide-variety of equity structures, including at the operating company/enterprise-level, in opportunistic stand-alone asset acquisitions and in joint-ventures with best-in-class operating partners.  Learn more at blgcap.com.