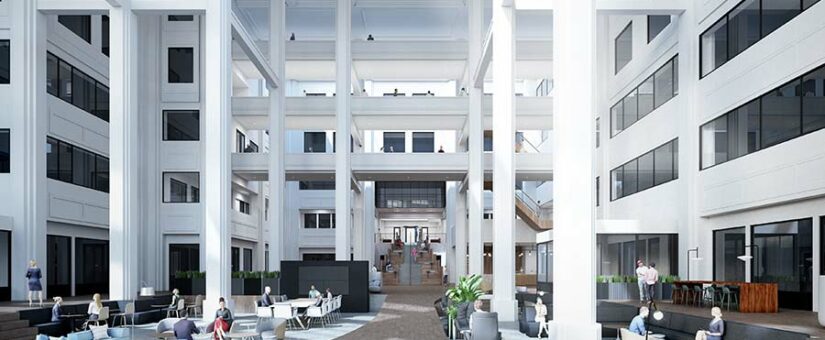 Press Release: One Southwest Crossing
Minneapolis, December 3, 2020 – Eagle Ridge Partners LLC (Eagle Ridge), in a joint venture with Boston-based private equity firm Long Wharf Capital, announces the acquisition of One Southwest Crossing (OSWX).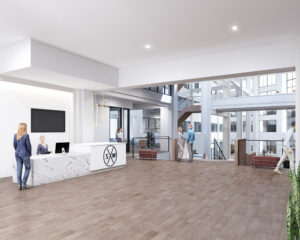 Built in 1985, OSWX is a 246,293 square-foot class A office building located in the southwest suburb of Eden Prairie, Minnesota. The Connecticut General Life Insurance Company (Cigna) has occupied 170,000 SF in the building for the last 10 years but is vacating its premises upon lease expiration at the end of December. "We view this acquisition as an incredible opportunity to reposition the building within the corporate-heavy southwest market given the excellent freeway visibility and quality structure, with large floor plates, open-air common areas and an abundance of parking." said Shannon Van Gemert, Managing Director & Principal of Eagle Ridge Partners.
Eagle Ridge has already commenced a large-scale renovation – reimagining the dated interior and enhancing exterior features to revitalize the building – which will be completed by the end of June 2021. The 20,000 square-foot atrium in the center of the building will undergo a significant renovation designed by Studio BV, which will harness natural light from a large window wall and incorporate a new skylight to create an outdoor feel year-round. The previously underutilized area will also include a coffee bar with grab-and-go food options and offer a variety of seating options for tenants: social space, collaborative space, and productivity space.
"The environment we are creating at One Southwest Crossing will help tenants attract and retain top talent." noted Kristin Myhre, President & Principal of Eagle Ridge Partners.
Further upgrades to the building focus on COVID-19 protections and employee health & wellness, including the addition of an open-air staircase to the upper levels, touchless doors and elevators, and HVAC modifications to enhance air quality and safety. Other amenities will include a fitness center, bike room and locker room.
Situated on a highly visible site directly off I-494, and between Golden Triangle and Eden Prairie Town Center light rail stations, OSWX is easily accessible by car, bike, or LRT. Additionally, the building offers views of Lake Smetana and private outdoor balconies to tenants on the upper levels.
Brian Helmken and Erik Heltne of Avison Young represented the seller on the transaction and will provide leasing services; Eagle Ridge will perform property management.
JLL Capital Markets worked on behalf of Eagle Ridge Partners to secure the equity investment with Long Wharf Capital which will be used to fund capital improvements and to re-tenant the property. The JLL Capital Markets team representing Eagle Ridge Partners was led by Managing Director Matthew Schoenfeldt, Senior Director Christopher Knight and Senior Managing Director Colin Ryan.
Dan Trebil and Pat Minea of NorthMarq arranged financing for the acquisition on behalf of the partnership through Firefly Credit Union. NorthMarq is the largest privately owned provider of commercial real estate financing in the country, offering commercial real estate investors expertise in debt, equity, investment sales and loan servicing to protect and add value to their assets.
Founded in Minneapolis in 1996, Eagle Ridge Partners is a privately held development, acquisition, and asset management company. Eagle Ridge has owned, operated, and developed over $1 billion of institutional-quality commercial real estate assets and has a current portfolio of over 2.5 million square feet in the Twin Cities metro area, including office, industrial, multi-family and design center properties. For further information, visit: www.erpartners.com.
Long Wharf Capital LLC is a Boston-based private equity real estate manager focused exclusively on value-added investments in the U.S. Formed in 2011, the firm invests on behalf of institutional clients including pension funds, endowments, foundations, and family offices. Long Wharf's investment approach utilizes multiple value creation strategies to target opportunities across property sectors and U.S. markets. Since Long Wharf's first fund in 2012, the team has invested over $770 million of equity in more than 50 investments across the U.S. with a gross value of $2.7 billion. For further information, visit: www.longwharf.com.