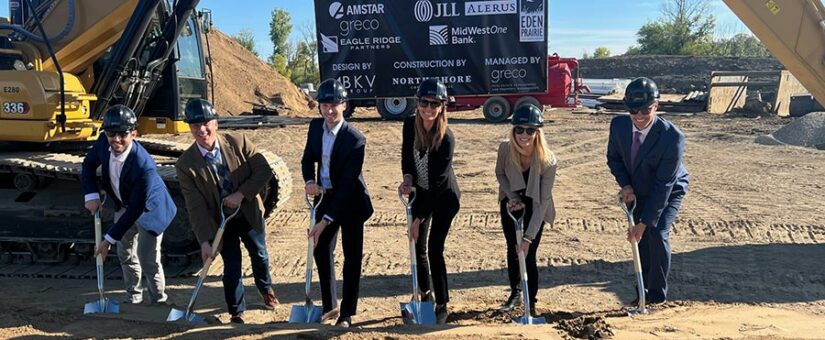 Greco, Eagle Ridge Partners, and Amstar Break Ground on New Golden Triangle Luxury Residential Project in Eden Prairie
Greco and Eagle Ridge Partners, in partnership with Amstar Group, celebrate the groundbreaking of their new multi-family residential project in the heart of Eden Prairie's Golden Triangle.

"We are excited to begin construction and take the first steps toward our vision to create
a thriving residential community in the Golden Triangle area," said Josh Brandsted,
president of Greco. "At completion, our work will help meet the growing demand for
housing while also advancing the City of Eden Prairie's comprehensive plan."

The new development is located at 6901 Flying Cloud Drive on an undeveloped 15-acre
site adjacent to a natural wetland area, and the Southwest Light Rail Transit Line
station.

"Golden Triangle sets a new standard for suburban lifestyle living with its idyllic natural
setting, convenient location, and in-demand amenities," said Shannon Van Gemert,
managing director and principal at Eagle Ridge Partners. "The purposeful design
connects people easily to walking trails, light rail transit, and a vibrant corridor of
established restaurants, shopping and entertainment."

The property's first phase of development will include 237 luxury housing units in two
buildings, as well as 315 underground parking spaces. The unit mix will include studio,
one-bedroom, two-bedroom, and three-bedroom units. Amenities at the property will
include a private club room, private dining, outdoor pool, spa, theatre room and pickle
ball courts. A future phase will accommodate an additional 188 units.

As part of Eden Prairie's inclusionary zoning, roughly 25% of the units will be rented at
50% and 80% of the area median income (AMI).

"This transit-oriented development project increases housing near the new light rail
promoting ridership, and providing convenient access to jobs in the Golden Triangle
Area," said Eden Prairie Mayor Ron Case. "As part of the Aspire Eden Prairie 2040
comprehensive plan, we have a number of goals focused on housing and we appreciate
the partnership of everyone involved in this project to advance our community priorities."

"Amstar is excited to partner alongside Greco and Eagle Ridge in delivering new, bestin-
class housing in the City of Eden Prairie," said Tim Slater, senior vice president,
Amstar. "An experienced development team and a site with unique features next to
water, newly built trails, transit and jobs will make this a great home for future
residents."

North Shore Contractors is the general contractor on the project, designed by BKV
Group in Minneapolis. Completion of Phase I is expected in spring 2025.
About Greco
Since 2002, Greco has been a leading developer in reshaping urban landscapes.
We create innovative housing and mixed-use developments that bring alternative
design, architectural detail and environmental planning to an array of markets.
We've not only created the most exciting, vibrant neighborhoods, we've set the bar
for what urban living, working and playing can be. And we're not stopping there.
We're passionate about progress. We're passionate about places. And we're
passionate about people. See our current work at ChooseGreco.com.

About Eagle Ridge Partners
Founded in Minneapolis in 1996, Eagle Ridge Partners is a privately held development,
acquisition, and asset management company. We have owned, operated, and
developed over $1 billion of institutional-quality commercial real estate assets in our 20+
year history. Our current portfolio includes over 3 million square feet in the Twin Cities
metro area, including office, industrial, multi-family and design center properties. We
focus on creating value in each transaction we engage in by utilizing a combination of
experience, industry relationships, and a flexible investment approach. Learn more at
erpartners.com.

About Amstar Group
Amstar is a privately owned real estate investment management company with over
three decades of experience in acquiring, developing and managing all major property
types in the United States and in select international markets. The company's two
primary divisions include: i) Amstar Group LLC ("AGL"), which invests in and manages
value-add acquisitions, major renovations and repositionings and opportunistic groundup
developments throughout the United States, and ii) Amstar Global Partners Ltd.
("AGP"), which manages commingled funds that invest opportunistically in ground-up
developments in select international locations.